FOR-A MV-4200 3G/HD/SD/Analog/HDMI/DVI/RGBHV Mixed High Resolution Multi Viewer
Brand:
For-A
Product Code:
MV-4200
Reward Points:
0
Availability:
1
Condition:
Brand New
FOR-A MV-4200/4210 3G/HD/SD/Analog/HDMI/DVI/RGBHV Mixed High Resolution Multi Viewer
68 Inputs, 8 Monitor Outputs, 4K Compatible and Energy Efficient
MV-4200/MV-4210 2U multi viewers accept up to 68 channels of mixed 3G/HD/SD-SDI, Composite, HDMI, DVI or RGBHV inputs and provide up to 8 monitor outputs. These full-featured units offer a customizable window layouts with audio level meters and AFD-compatible cropping.
MV-4210 SDI output model also available
Provides all 8 channels of monitoring output in HD-SDI.
Up to 68 channels of input with optional cards*1
Combine optional input cards, MV-4200SDI (3G/HD/SD-SDI, Composite x20), MV-4200PCI (DVI-I/HDMI/RGBHV x8), or the MV-4200IF interface card (GPIO, serial control, input of analog audio, AES audio, genlock), as needed.
*1 Three MV-4200SDI cards.
View up to 8 monitors with different layouts
Up to 114 windows over 8 output channels
1 clock per output channel
Up to 8 logos and 1 background per output channel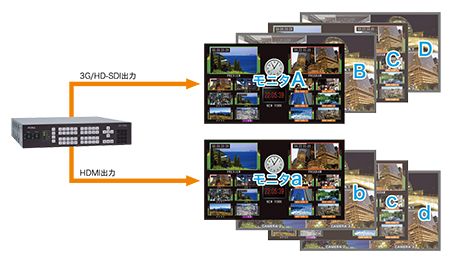 3G-SDI inputs support 4K QFD source input
Layout Manager enables easy layout of 4K video in a seamless display

Features
Appearance without optional units

Appearance with all optional units
When an MV-4200IF, MV-4200PCI, and MV-4200SDI options are mounted:

There are no reviews for this product.
Write a review
Your Name:
Your Review:
Note: HTML is not translated!
Rating:
Bad
Good
Enter the code in the box below: